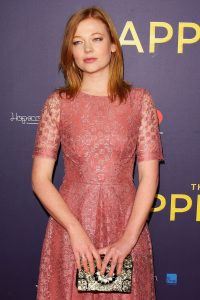 Australian actress Sarah Snook got her start in the late 2000s. She made her debut in the Australian series All Saints. She next starred in the TV film Sisters of War, which got her an AACTA Award for Best Lead Actress in a Television Drama. In 2012, she was acclaimed for her performance in the movie Not Suitable for Children. For her work here, she won the Film Critics Circle of Australia Award for Best Actress. Her next role was in the movie These Final Hours.
She later became further known for her acclaimed performance in the movie Predestination, winning many awards in Australia. Following this, she made her Hollywood debut starring in the film Jessabelle. She then co-starred alongside Kate Winslet in the film The Dressmaker and played Andrea "Andy" Cunningham in the film Steve Jobs. More recently, she starred in the films The Glass Castle, Winchester, and Brothers' Nest. This year, she also stars as Shiv Roy in the new HBO series Succession.
The 31-year-old actress stays in shape not just by working out but by also sticking to a clean diet plan. She doesn't follow any specific "diets". What she does is just follow the basics as far as healthy eating is concerned. This means she focuses on eating nutritious foods rather than processed ones. She actually tries her best to control her consumption of junk foods.
Ultimately, the actress was able to establish a healthy eating routine so she doesn't crave for unhealthy foods as much as she did before. Her regular diet plan typically consists of lean proteins, whole grains, and fiber-rich foods such as fruits and veggies. She also considers eating in moderation as one of her eating principles. She has indulgences, such as sweets and fast food but she only has them occasionally and does not dare to overeat.