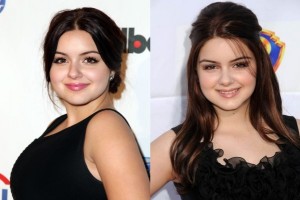 Career as a Child Actress and Further Fame on Television
Ariel Winter was born in Fairfax, Virginia on January 28, 1998 to parents Chrisoula and Glenn Workman. Her older sister, Shanelle Workman, is also an actress, while her older brother, Jimmy Workman, is an actor. With her siblings in the acting industry, she also began acting at a young age, first appearing in a commercial when she was six.
In 2005, she began her television career in an episode of the TV series Listen Up!. She also made her feature film debut in Kiss Kiss Bang Bang that same year. The following year, she began working as a voice actress with credits in the animated movies Bambi II, Ice Age: The Meltdown, and Over the Hedge.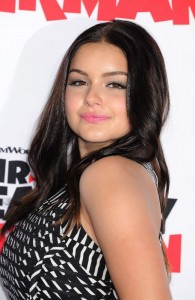 She then played her first recurring role on the small screen as Little Tori in the sitcom So NoTORIous. Subsequently, she made guest appearances on the TV shows Jericho, Bones, Nip/Tuck, and Crossing Jordan. In 2007, she began a regular gig as the voice of Gretchen in Phineas and Ferb. The following year, she appeared in the films One Missed Call and Speed Racer.
In 2009, she got more acting jobs with roles in such movies as Duress, Opposite Day, as well as in the animated films Cloudy with a Chance of Meatballs and Afro Samurai: Resurrection as a voice talent. It was also that same year that she played the recurring role of Lucy Moore in ER and began playing the main role of Alex Dunphy in the comedy series Modern Family. She still plays the part up to present. The popularity of the show has proved vital to her mainstream success.
While working in Modern Family, she simultaneously provided voice work for such animated programs as Jake and the Never Land Pirates and Sofia the First where she plays the title character. In the 2010s, she has appeared in several movies, including Killers, The Chaperone, Fred 2: Night of the Living Fred, Excision, and most recently, Safelight.
Has Ariel Winter had Plastic Surgery?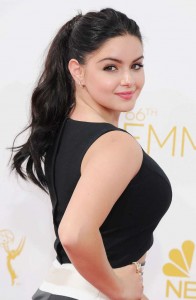 17-year-old Ariel Winter faced rumors of breast augmentation before when viewers noticed how her breasts have gone really huge, like her body had fully developed in an instant. Turns out, that's what really happened. Naturally, the young actress developed a 32F cup size even prior to turning 18 years old. It wasn't the breast enlargement that made her breasts prominently great in size, it was her genes. It must run in their family as her older sister also has huge ones.
This month, however, the Modern Family star announced that she had undergone a breast reduction surgery last June, making her 32F cup to a 34D. In an interview, the actress revealed how she was getting criticized for dressing up inappropriately for her age when attending red carpet events, explaining that only tight, form-fitted clothes were the ones that look good on her body type.
She also admitted to experiencing back pains, as well as neck and spine problems due to her previously large cup size. Simply put, it was a burden physically and mentally that needs to be adjusted. Now that she's gone for a more manageable breast size, the actress said she couldn't have felt more relief.