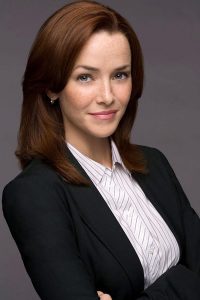 Hollywood star Annie Wersching debuted in an episode of Star Trek: Enterprise in 2002. She next made more guest roles on such TV shows as Birds of Prey, Frasier, Angel, Charmed, Out of Practice, Killer Instinct, Cold Case, and Boston Legal. In 2003, she made her first film appearance with a small part in the comedy film Bruce Almighty. In 2007, she became known for her recurring character as Amelia Joffe on the medical soap opera General Hospital. From 2009 to 2010, she later became widely known for her portrayal of Renee Walker on the Fox series 24.
In the 2010s, she mostly had guest appearances on a variety of shows. This includes CSI: Crime Scene Investigation, NCIS, No Ordinary Family, Rizzoli & Isles, Hawaii Five-0, Body of Proof, Dallas, Touch, Revolution, and Castle. She then landed the part of Julia Brasher on the Amazon series Bosch. At the same time, she played recurring part Femi Dodd on Extant. From 2015 to 2016, she played Lillian 'Lily' Salvatore on The Vampire Diaries. She next starred as Emma Whitmore on NBC's Timeless. As of 2018, she plays Leslie Dean on the new Hulu series Runaways. She's also starred on the TV films Blue-Eyed Butcher, The Surrogate, and The Other Mother.
The 41-year-old actress stays in shape by taking care of her body and her overall health. What better way to do that than by sticking to a clean and nutritious diet plan. Basically, she avoids all processed foods. She prefers to consume natural, whole foods mainly because they have plenty of nutrients. Processed foods, on the other hand, are not only less healthy, but they're also fattening. Her diet plan typically consists of protein-rich foods such as eggs, fish, and chicken. She also incorporates veggies into all her meals. In between meals, she snacks on something healthy like nuts, fruits, or yogurt.