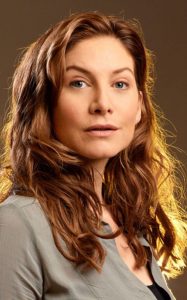 Hollywood star Elizabeth Mitchell debuted in 1993 with a guest role on the TV show Dangerous Curves. She later played recurring character Laura Malloy on the Fox series L.A. Firefighters and Jane Chasen on Significant Others. She then became known for her role as Linda on the HBO TV film Gia where she co-starred with Angelina Jolie. She then became further known for her recurring roles on television, playing Ashley Holloway on Time of Your Life and Time of Your Life on ER. She also portrayed Linda McCartney on the TV film The Linda McCartney Story.
In the 2000s, she first starred as Alice Allenby on the short-lived series The Beast. This was followed by her recurring role as Ariel Saxon on The Lyon's Den. From 2006 to 2010, she became widely known for starring as Dr. Juliet Burke on Lost. She also played the lead star Erica Evans on the ABC series V. From 2012 to 2014, she starred as Rachel Matheson on NBC's Revolution. She also played the multiple roles of Ingrid/Snow Queen/Sarah Fisher on Once Upon a Time. More recently, she starred on the short-lived shows Crossing Lines and Dead of Summer. As of 2018, she plays the recurring role of Dr. Annushka "Anna" Volovodov on The Expanse.
The TV star is nearing her 50s but that clearly doesn't bother her, seeing her amazing physique and her youthful radiance. So, what could be the actress' secrets to having a slim figure despite age and motherhood? For starters, she sticks to a clean diet plan. She's not into eating anything processed, at least not anymore. More importantly, she eats healthily because she wants her son to do the same. "I believe in moderation in diet and in raising your children, so a little bit of everything is fine for him," the actress said about her healthy lifestyle and the healthy upbringing she instills in her child.