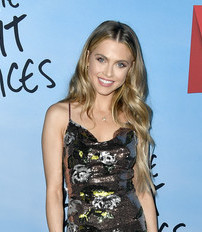 Hollywood star Anne Winters started her entertainment career in 2009. Her first role was in a short film called Gloria. She next appeared in the films A Christmas Snow and Cooper and the Castle Hills Gang. In 2013, she had her first television role in an episode of Liv and Maddie. She then landed the role of Kelsey, a recurring character in The Fosters.
She finally got her first starring role on television, playing Emma Al-Fayeed in the FX series Tyrant, a role she played between 2014 and 2016. During this period, Winters also had performances in such films as A Christmas Snow, Sand Castles, Fatal Instinct, Pass the Light, and The Bride He Bought Online. She also starred as Vicki Roth in the short-lived show Wicked City, which aired on ABC.
She was then cast for the part of Valerie York in the TV remake of Cruel Intentions but the pilot didn't get picked. She went on to co-star as Mia Phillips in the TV show Zac & Mia. Simultaneously, the actress had supporting/starring roles in the movies The Tribe, Reality High, Mom and Dad, Night School, and Countdown. As of 2018, she stars as Chlöe Rice in Netflix's 13 Reasons Why. In addition, she starred as Ingrid in ABC's Grand Hotel. This year, she played Charly Burke in Season 3 of The Orville.
Anne Winters stays in good shape thanks to a combination of workouts and healthy eating. Even though she's only in her 20s, she's already conscious of what she eats. As an actress, she makes it her responsibility to take care of herself. She does this not only to stay slender, but to also feel great energy and strength-wise. Mostly avoiding oily and sugary foods, the actress keeps her body fit and healthy with nutritious foods. Her diet plan typically includes lean meat like fish or chicken, complex carbs, and plenty of fruits and vegetables. She eats in moderation and she only indulges in her cravings once in a while.