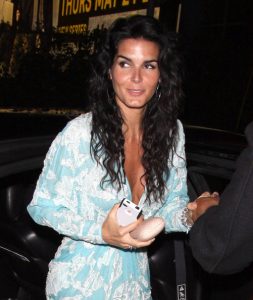 American television actress Angie Harmon first made a name for herself as a model. She established herself as a prolific one. This eventually led her to pursue a career as an actress. The first substantial part she got in the '90s was as Ryan McBride on Baywatch Nights. Her career continued to flourish after securing the role of A.D.A. Abbie Carmichael on the hit series Law & Order. The success of the show earned her mainstream prominence. She had also reprised said role on the spin-off Law & Order: Special Victims Unit. After her stint on these shows, she joined the main casts of Inconceivable and Women's Murder Club. Her latest notable stint was as Jane Rizzoli on the TV series Rizzoli & Isles. The show aired on the small screen for seven seasons.
The actress remains fit and healthy, thanks to her practicing proper nutrition. Aside from this, she also makes sure she maintains her health and fitness by staying active. She understands the importance of a healthy lifestyle, especially now that she's in her mid 40s where staying slim and fit becomes much harder than when you're younger. Surprisingly, Angie doesn't have any fitness regimen. She revealed she's not really fond of going to the gym or using any gym equipment. She prefers going as natural as possible.
She said in an interview: "I don't have one except for running to the gate at the airport." Instead of following a workout routine, she prefers activities with her family instead. She prefers activities such as hiking, trampolining, swimming and running. She added: "Running around with my daughters is a demanding workout in itself. It's more fulfilling than a run in the treadmill." This way, she's able to become active and enjoy bonding with her family without the restrictions of gyms. This revelation is quite a surprise looking at her figure and her toned abs.