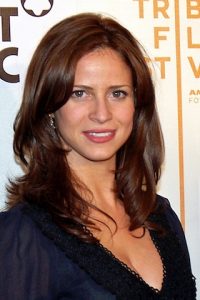 Hollywood star Andrea Savage debuted as Renata Vargas in the television series Sweet Valley High. The show aired on TV from 1996 to 1998. She also had one-time roles in Sabrina, the Teenage Witch and Stark Raving Mad. In the 2000s, she starred as Chelsea in the short-lived series Significant Others. After this, she joined the main cast of Dog Bites Man as Tillie Sullivan.
After guest-starring in an episode of Two and a Half Men, she made her film debut in The Grand, followed by another role in the movie Step Brothers. Savage also had roles in the film I Love You, Beth Cooper. From 2010 to 2011, she appeared in some episodes of Funny or Die Presents. She then landed the role of Veronica Von Vandervon in the Hulu sitcom The Hotwives of Orlando. Following this, she starred as Helen Basch in the comedy series Episodes.
The actress then starred as Ivanka Silversan in the sitcom The Hotwives of Las Vegas, after which she played the part of Vivian Stoll in The CW's iZombie. From 2016 to 2017, she played the role of Senator / President Laura Montez in Veep. She gained more popularity recently with the series I'm Sorry, which she also created and starred in as Andrea Warren. Also in the 2010s, Savage had performances in the films Dinner for Schmucks, Life Happens, You're Not You, Sleeping with Other People, The House, and Summer '03.
Andrea Savage stays in shape by living a healthy life. She works out as often as possible and eats clean, whole foods most of the time. She's since learned to avoid processed foods or anything that's too sugary, salty or oily. Her diet plan typically consists of lean protein from fish and chicken. She always has some salad in every meal to consume more veggies. In between meals, she snacks on fruits and almonds, which keeps her energy levels high without the hunger pangs. Snacking on healthy food also helps her avoid binge eating.