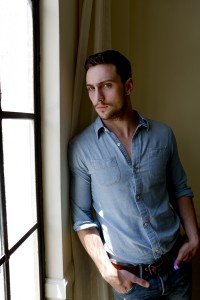 English actor Aaron Taylor-Johnson is now one of Hollywood's most promising young actors. Starting his career when he was around 10 in the UK, he eventually made his Hollywood debut in the 2003 movie Shanghai Knights. He continued acting in both European and American cinema until he got significantly noticed for playing John Lennon in 2009's Nowhere Boy, a British bio film. The following year was his breakthrough as the superhero wannabe Kick-Ass in the movie of the same name, which went on to become a worldwide hit. After this, he proceeded to playing more adult-oriented roles with Savages and Anna Karenina, though he still reprised his role in Kick-Ass 2 in 2013. Recently, he starred in Godzilla and Avengers: Age of Ultron, released in 2014 and 2015, respectively.
The 25-year-old actor has evolved into a full-grown man seemingly immediately. After all, fans still remember him as the high school geek in Kick-Ass and now he looks like a full-pledged leading man with a more muscular build. After Kick-Ass, he started working out to improve his physique for his role in Savages, in which he underwent awesome transformation. He continued this feat as he landed roles in a superhero and in a sci-fi thriller features, the Avengers and Godzilla, which meant he needed look more physically able.
To prepare for the said characters, he engaged in a lot of TRX work for core training. Working with trainer Richard Smedley, this kind of training focuses on parts of the stomach that's hard to access by doing only floor exercises. His trainer said he needed to look like athletic and not just a bodybuilder. To achieve this, he did lots of carrying and moving with heavy weights. This routine not only gives him a great shape and form, but also improves his functional strength. Some of the routines he did were Weighted jump, TRX plank, Three-chair press-up, and Farmer's walk.