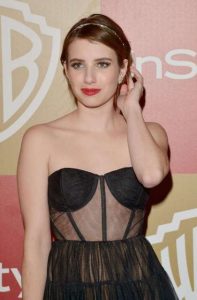 Emma Roberts already has entertainment roots in her being the daughter of actor Eric Roberts, making her Julia Roberts' niece. When she was little, she would be in her aunt's shoots, exposing her to the world of acting at a young age. During her teens, she came to prominence for her lead role as Addie Singer on the Nickelodeon television series Unfabulous. After the show, she turned to the big screen and starred in such films as Aquamarine, Nancy Drew, and Wild Child, among others. Continuing her career in the 2010s, she starred in Valentine's Day, Scream 4, Empire State, and We're the Millers. Her most recent film is Nerve. She had also returned to TV with notable performances on American Horror Story and Scream Queens.
The young actress may not need to diet and work out to maintain her slender figure because one, she's still young, and two, it's in her genes to stay that way, just look at her aunt Julia who still looks so slender despite being in her late 40s; but she still does anyway because she knows it's not only for her to look good, but to also feel good on the inside. The actress does a lot of workouts that suits her lifestyle and Pilates happens to be her favorite.
According to her, she's tried many other routines, but Pilates is one of the few that she's grown to love, making it part of her regular routine in the process. She also likes moving around, so for her the basics are good enough, which is why she makes sure she does cardio whenever she can. And because she likes being physically active, even walking is good for her. She hits the gym whenever she can to do some easy weightlifting to tone her arms and her entire body, but she takes is real slow. She doesn't want to hurt herself in the process.