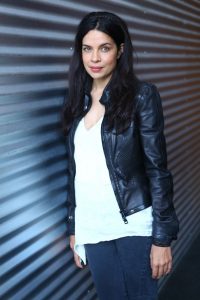 British actress Zuleikha Robinson had her career beginnings in 1999, during which she first acted in a short film called Benefactor: Scenes from an Arrangement. The following year, she made her big-screen debut in the film Timecode. Shortly after, she had her first starring role on television in The Lone Gunmen. Later in 2004, she had roles in the films Hidalgo and The Merchant of Venice.
Her next film role was in 2006's The Namesake. Robinson's career on the small screen became prolific afterward. She played recurring character Gaia in the historical-drama Rome. She then starred as Eva Marquez in the short-lived series New Amsterdam. Between 2009 and 2010, she became known for her part as Ilana Verdansky in Lost. In the 2010s, she played a recurring character, Roya Hammad, in Homeland.
She continued playing recurring roles in such television shows as Covert Affairs, Intelligence, Once Upon a Time in Wonderland and Kingdom. Robinson was a series regular in the TV shows The Following, Still Star-Crossed, and The Exorcist. During this period, she also had performances in the movies Ask Me Anything, The Boy, and American Fable. As of 2019, she stars as Vanessa Hadid in NBC's Law & Order: Special Victims Unit.
Zuleikha Robinson eats conscientiously to maintain her healthy figure. Already in her 40s, she's since learned to focus on healthy eating sans processed foods. When working, the actress avoids snacking on foods high in sugar and carbs. That's why she prefers making her meals and bringing her own snacks.
Breakfast for the British star is typically tea, eggs, and toast. Lunch and dinner usually consist of lean meat with vegetables. In between meals, she has smoothies, nuts, yogurt, and fruits to keep herself satiated. She also stays healthy by drinking plenty of water, exercising, and eating in moderation.