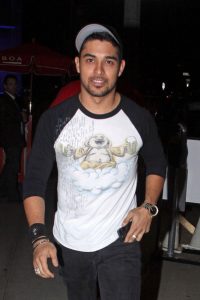 Actor Wilmer Valderrama professionally debuted in 4 episodes of the show Four Corners in 1998. During the same year, he also achieved his breakthrough, playing the role of Fez on the period sitcom That '70s Show. The said show aired on Fox from 1998 to 2006, gaining him mainstream prominence. While on the show, he also started a film career, debuting in the 2001 film Summer Catch. He has since appeared in the movies Party Monster, Clifford's Really Big Movie, Beauty Shop, Fast Food Nation, Unaccompanied Minors, and Zoom.
After That '70s Show ended, he hosted the show Yo Momma. He also voiced the titular character on the Disney animated series Handy Manny. Simultaneously, he also acted in the movies El Muerto, Columbus Day, Days of Wrath, and The Dry Land. In the 2010s, he played Eric Kassabian on Royal Pains, Detective Efrem Vega on Awake and Ricardo Montes on Raising Hope. From 2014 to 2016, he became further known for his role as Don Carlos Madrigal on From Dusk till Dawn: The Series. In 2016, he started playing Nicholas "Nick" Torres on NCIS. He also played Umberto in 4 episodes of The Ranch. He's also the voice of Prince Charming in the upcoming animated film Charming.
For his role on From Dusk till Dawn: The Series, the actor knew he needed to up his workout routine in order to improve his physique. Especially for the show's second season where the actor thought it would be better for him to come back looking sturdier to give his character a sense of danger. "I thought doing a full-body transformation would be exciting for the character," he said.
So, how was he able to gain more muscles and develop his overall body? He shared: "I'm working out twice a day, and I'm eating like six times a day and eating crazy amounts of protein. I'm not doing it alone though, I'm doing it with my trainer Ronny Camacho who's one of the best trainers in town… Ronny has this crazy regimen: we workout at 7 a.m., and we work out at 7 p.m. right when I come home from the office."