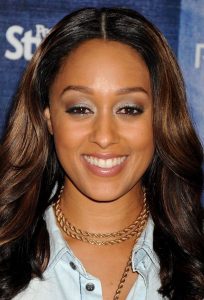 Tia Mowry is a former child actress. After roles on the TV shows Dangerous Women, True Colors, and Full House, she came to prominence for starring as Tia Landry in the sitcom Sister, Sister. The hit program aired on ABC from 1994 to 1999. In the 2000s, Mowry landed roles in some TV films, including Seventeen Again, Twitches, and Twitches Too.
She then starred as Dr. Melanie Barnett-Davis in The CW's The Game, starring on the show from 2006 to 2012. Meanwhile, in the movies, she had her first role in the comedy film The Hot Chick. She next starred as Sasha in the straight-to-video feature Bratz: Starrin' & Stylin'. She continued her television career, though this time it's on reality TV. With this, she worked with her sister again and collaborated in the reality series Tia & Tamera.
From 2013 to 2015, she starred as Stephanie Phillips in the sitcom Instant Mom. Venturing into hosting, she currently hosts the show Tia Mowry at Home. Still, she continued her work in acting. She had recurring characters in such TV shows as Rosewood, Mistresses, Nicky, Ricky, Dicky & Dawn. Very recently, she played the role of Cocoa McKellan in the Netflix show Family Reunion. Other film credits in the 2010s include Baggage Claim and Indivisible.
The actress is able to maintain a vibrant health thanks to her clean diet plan and diligent workout routine. While she loves trying out new exercises, she's always liked yoga. "I absolutely love doing yoga. And it's not a vain thing—you may walk out with more muscles or tone, which is great, but for me it's about feeling good," said the actress.
But, of course, she also acknowledges that doing the right workout depends on one's personal preference. "Do what you love, and do what you love to do. Yoga may work for me, but some people—and I know it may sound crazy—some people may like to hula hoop. And guess what? You can workout with a hula hoop!"