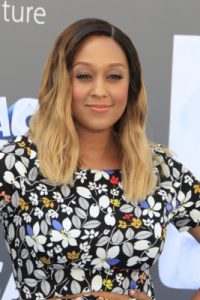 American actress Tia Mowry had her career beginnings in the early 1990s as a child actress. She appeared in the TV shows Dangerous Women, True Colors, and Full House. Her breakout role was as Tia Landry in the Sister, Sister, which aired on television between 1994 and 1999. After it ended, she starred with a voice role in the animated series Detention. In the 2000s, she starred in the TV movies Seventeen Again, Twitches, and Twitches Too.
She also starred as Sasha in Bratz and Dr. Melanie Barnett-Davis in the comedy-drama series The Game. She played her character in the latter between 2006 and 2012. On the big screen, she made her debut in the 2002 film The Hot Chick. She reprised her role as Sasha in the direct-to-video film Bratz: Starrin' & Stylin'. In the 2010s, she starred in the reality series Tia & Tamera alongside her sister.
She then starred in the TV movie The Mistle-Tones, as well as joined the main cast of the TV series Instant Mom as Stephanie Phillips. From 2015 to 2016, she played the voice role of Sindy Sauernotes in Fresh Beat Band of Spies. Since 2015, Tia Mowry has also been the host of the show Tia Mowry at Home. From 2016, she played recurring roles in Rosewood, Mistresses, Nicky, Ricky, Dicky & Dawn, and Me, Myself, & I. This year, she played Cocoa McKellan in the Netflix series Family Reunion. In the movies, her latest role was in 2018's Indivisible.
Now in her 40s, the former teen star has since learned how to take care of her body through proper nutrition. "One of the main reasons that I changed my diet was because of endometriosis," said the actress on why she finally decided to ditch her unhealthy eating habits. "When I started taking dairy out of my diet, not only did my migraines go away, but my eczema also started to go away. It was pretty mind-blowing to me," she continued.
She also loves smoothies as her go-to snacks, which she makes on her own. "You just need some bananas and peanut butter and a little bit of coconut milk and unsweetened cocoa powder, some nibs, some nuts, and you've got yourself an incredible smoothie bowl," said the actress.