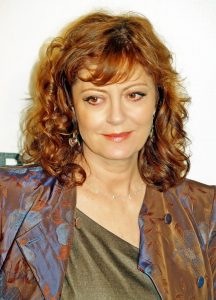 Actress Susan Sarandon got her beginnings in the 1970s, debuting in the film Joe while her first TV role was on A World Apart. She later became known for starring in the film The Rocky Horror Picture Show. She became more acclaimed in the 1980s, first getting an Academy Award nomination for her role in Atlantic City. During this period, she also became known for starring in the films The Hunger and The Witches of Eastwick. The following decade, she also critically praised performances in the movies Thelma & Louise, Lorenzo's Oil, and The Client.
All these roles gave her Academy Award nominations for Best Actress. She finally won her first Academy Award for Best Actress for her role in the 1995 film Dead Man Walking. She also starred in the movies Little Women and Stepmom. In the 2000s, she had notable roles in the features Enchanted and The Lovely Bones. Her latest films include Tammy, The Meddler, and A Bad Moms Christmas. On television, she played Alicia Green on Rescue Me, Doris Duke on the TV movie Bernard and Doris, Joy on The Big C, and Bette Davis on Feud: Bette and Joan.
The veteran actress is aging gracefully all thanks to her clean diet. In the previous years, Sarandon followed a vegetarian diet but admitted she got bored with going meatless. "I [still] don't eat a huge amount of red meat," she says, adding, "I can't eat as many carbs as I used to, but I've never been able to do anything as severe as the Atkins diet," she said. Rather than undergoing cosmetic procedures to look great, the actress focuses on taking care of herself through a balanced diet. "[My] emphasis is on being healthy … rather than what you inject or reconstruct. Beauty comes from inside — it has to do with what you take in," she said.