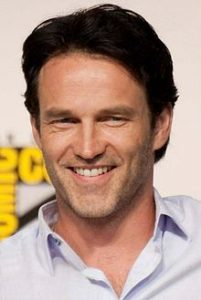 English actor Stephen Moyer first appeared as Philip Masefield in the 1990s TV series Conjugal Rites. He next starred as Martin Franks in another show called Castles. Later in 1997, he played the part of Stephen Bannerman in the TV drama The Grand. As a film actor, he debuted as the titular character in the movie Prince Valiant. In the 2000s, he landed roles in several films, including Quills, Trinity, Princess of Thieves, Deadlines, Undiscovered, 88 Minutes, and Restraint.
Also, he starred in the short-lived programs NY-LON and Lilies. Moyer had his breakthrough after getting the part of Bill Compton in the HBO series True Blood, a role he starred in from 2008 to 2014. He simultaneously had performances in many feature films, including Open House, Priest, The Caller, The Double, The Barrens, Evidence, and Devil's Knot.
After True Blood ended, he starred in the movies Concussion, Detour, The Hatton Garden Job, and Juveniles. He also continued his TV career playing the roles of Milus Corbett in The Bastard Executioner, Officer Breeland in Shots Fired and Tom Brook in Safe House. From 2017 to 2019, the actor starred as Reed Strucker in the Fox series The Gifted.
Stephen Moyer is not one to spend much time working out in the gym, at least he wasn't into fitness when he was younger. Nonetheless, he grew up active by playing sports. "I'm an English boy. I played a lot of sports growing up, but I never had any kind of workout regimen. My working out was with my right arm and it involved a pint glass," said the actor. Now he works with a trainer to keep him in top shape.
He also admits that getting results isn't that easy. "There's no immediate payoff. Sometimes it feels like it's taking forever to see results. It takes commitment and time, but when you start to see results—when you feel a bit leaner or you're doing more reps—you start to think, 'Wow, I can see a difference!' And it's palpable. I recommend it," he shared.