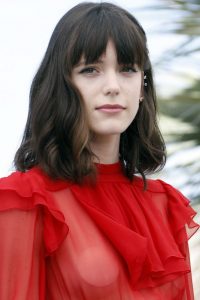 Stacy Martin started her professional acting career in the 2013 film Nymphomaniac, playing the Young Joe. For this, she was nominated for a Bodil Award for Best Actress in a Leading Role. This led her to star in many other films, such as in Tale of Tales, The Lady in the Car with Glasses and a Gun and The Childhood of a Leader. She later played the lead role in the movie Taj Mahal, as well as played a notable character in the British film High-Rise. In 2017, she portrayed French actress and novelist Anne Wiazemsky in the feature film Redoubtable. She next played a small role in the Hollywood film All the Money in the World. This year, she starred in the French film Treat Me Like Fire, as well as in the Hollywood movie Vox Lux.
The 27-year-old actress stays in shape by following a healthy lifestyle. For starters, she likes to get active. "Being active in the day helps me feel good the rest of the day," the actress said. "I do a lot of yoga and discovered Ballet Barre. I was here for a month and discovered it at Equinox. There's something about doing something very physical that makes you feel better afterward. I feel good exercising but I'm not a fanatic either. I haven't done yoga for a week but I'm not going to beat myself up for it."
She went on to say: "I did dance as a kid, so Ballet Barre felt a little familiar. But my muscles forgot. It shocked me how difficult I was. I realized how fit I was before and could do all these good, amazing things." The actress also mentioned how she hates spending too much time idling around. Whatever it is, she finds a way to do something valuable with her time when she's not working.