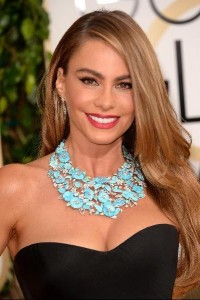 Colombian-born Sofia Vergara is now one of Hollywood's television staples. First getting her break as a co-host for a Spanish-language TV network in the 1990s, she went on to expand her career into cinema with her first notable part in Chasing Papi (2003). A few years later, she got a main role in the sitcom Hot Properties, though it was only short-lived. After years of acting on both film and television, her major break was in the comedy series Modern Family, which went on to become a favorite by both audiences and critics. Her performance on the show not only garnered her fame, it also got her critical praise receiving Primetime Emmy and Golden Globe nominations for Outstanding Supporting Actress. This led her to act in a number of well-known feature films like Madea Goes to Jail, The Smurfs, New Year's Eve, The Three Stooges, Machete Kills, and most recently Hot Pursuit.
The newly-married Colombian-American actress is widely known for her amazing comedic performance in Modern Family. Since then, she's been watched by fans for her impeccable sense of fashion, which she mostly showcases in red carpet events. Aside from this, Sofia is notable for her curvaceous figure. Standing at 5'7, the star is hard to miss. Despite her natural sexiness, the acclaimed celebrity works out and observes balanced diet. Being in her 40s, Sofia knows she shouldn't be complacent when it comes to her health and fitness.
For one, Sofia takes five small days in a day instead of the standard three-meals daily. This allows her to eat more frequently and avoid unwanted eating because of hunger. Most of her meals are foods balanced with carbohydrates and low protein-fats. For breakfast, she eats fresh fruits and raw vegetables combined with healthy fruit drink. She follows it with a snack consisting of either sweets or dairy products. For lunch, she usually has pasta and eats oatmeal or fresh fruits along with a glass of juice for her second snack. Her last meal of the day consists of meals low in carbs.