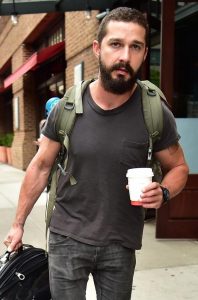 Hollywood star Shia Labeouf began his acting career in the late 1990s. During his initial years he mostly appeared on television. He got his big break in the early 2000s after landing the lead role on the Disney sitcom Even Stevens. This led him to play supporting roles in major films. This includes I, Robot with Will Smith and Constantine with Keanu Reeves. He next starred in the movie Disturbia. His international breakthrough was as Sam Witwicky in Transformers. He has since reprised his role in the sequels Transformers: Revenge of the Fallen and Transformers: Dark of the Moon. He has also headlined other movies, including Eagle Eye, Wall Street: Money Never Sleeps with Michael Douglas and Indiana Jones and the Kingdom of the Crystal Skull with Harrison Ford.
The actor started his career as a teen star. Hence, those who have followed him since his Disney days would recognize him as the skinny, funny kid. But so much has changed since. In his adult years, Shia has starred in dramatic and action-oriented roles that required him to change his body and bulk up a bit. That's exactly the case with his training to prepare for his role in Indiana Jones and the Kingdom of the Crystal Skull. In an interview, he said: "You don't want to be standing next to Harrison Ford and not be jacked also." Basically his training is not that complex.
He revealed: "I drink protein shakes nonstop – three or four per day. I run a lot, so I get rid of the bad carbs and keep the rest for the energy needed to make it through the days." Everyday, the actor underwent an hour of cardio session. His 1-hour running session was intended to jump start his metabolism. He does this before starting his workout routine at the gym. Each day, he does a different set of workouts that's intended for a specific part of his body. For instance, he allots Mondays for doing exercises that are meant to enhance his back. Tuesdays are for his chest, Wednesdays are for his legs, and Fridays for his shoulders. The rest are dedicated for cardio and Polymetrics training.