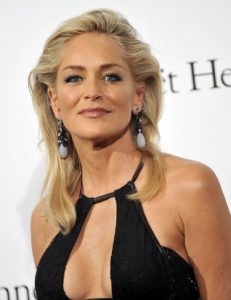 Hollywood star Sharon Stone started her career as an extra in 1980. Her first credited role was in 1981's Deadly Blessing. She next had roles in the films Irreconcilable Differences, King Solomon's Mines, Allan Quatermain and the Lost City of Gold, and Police Academy 4: Citizens on Patrol. The 1990s was what gained her mainstream fame, first starring in the film Total Recall. It was, however, her role as Catherine Tramell in the film Basic Instinct that cemented her prominent Hollywood status.
For her performance, she earned a Golden Globe nomination for Best Actress. She was also acclaimed for her role as Ginger McKenna in 1995's Casino. This got her an Academy Award nomination for Best Supporting Actress and won her a Golden Globe Award. She went on to gain Golden Globe nominations for her performances in The Mighty and The Muse. In the 2000s, she starred in the films Cold Creek Manor, Catwoman, Alpha Dog, and Bobby.
She also reprised her role as Catherine Tramell in 2006's Basic Instinct 2. During this period, she also made notable roles on television. She played Sheila Carlisle in The Practice and Dauri Rathburn in Huff. In the 2010s, she played Jo Marlowe in Law & Order: Special Victims Unit, Vice President Natalie Maccabee in Agent X, and Olivia Lake in Mosaic. In the movies, her latest role was as Iris Burton in The Disaster Artist.
Sharon Stone is unbelievably in her 60s. It's because, despite her age, she's able to maintain a svelte and toned figure thanks to her clean diet plan. One thing she's done to make the necessary changes is eliminated alcohol from her lifestyle. She's also since stayed away from gluten and caffeine. Instead of drinking coffee, she prefers non-caffeinated teas. Recently, she said she mostly eats low glycemic foods such as quinoa, lentils, and vegetables. "I don't eat a lot of processed food, though I haven't been able to get potato chips out of my mind!" said the actress.