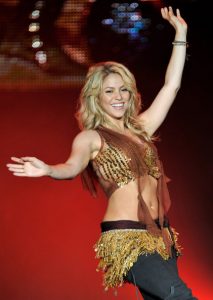 Colombian singer, songwriter, dancer, record producer, choreographer, and model, Shakira, first began her career in her country with the release of two studio albums that didn't really fare well commercially. She eventually signed a contract with a major label and gained recognition in Latin America in the late 1990s. Wanting to enter the international scene, she made her first English-language album Laundry Service in the early 2000s and became famous for the song "Whenever, Wherever". She has since released other albums in the US and became internationally famous for such hit singles as "Hips Don't Lie", "Waka Waka (This Time for Africa)", and "Can't Remember to Forget You". She's also known among television viewers as a judge and coach for the American version of The Voice during its fourth and sixth season.
Ever since the Colombian beauty entered the international scene, she has been known for her slim figure and her remarkable way of moving her body when dancing. How she plays with her waist and hips when performing has been her signature move that helped her attract mainstream attention. Being a performer for years, Shakira surely is very physical, which can be attributed to her physique. Being in the spotlight also makes it natural for her to maintain her figure through a healthy lifestyle, which she doesn't consider a chore, but rather something that she does naturally as she knows the results provide long-term health and happiness, too.
After giving birth in 2013 to her first child with Spanish football player Gerard Piqué, Shakira was able to gain back her slender figure immediately, though she didn't force her body to lose weight. According to her personal trainer, the singer starts her day by exercising for 30 minutes, and then another 30 minutes in the evening. After six weeks, she extended it to one hour both in the morning and evening. Shakira loves to mix it up so she is also fond of sports. She goes out to play tennis, squash, and paddleboarding. Her normal workout session usually involves a ballet combo and barre exercises, then kickboxing and sports training, hip-hop, or Pilates.