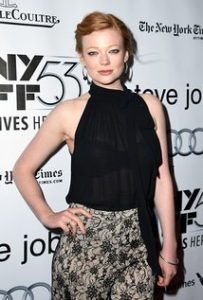 It was in 2009 that Aussie actress Sarah Snook started her professional acting career. She debuted with a one-time role in All Saints. Her performance in the TV film Sisters of War earned her an AACTA Award for Best Lead Actress in a Television Drama. Afterward, she made her film debut with a small role in Sleeping Beauty. In 2012, she starred in the Australian film Not Suitable for Children. For her work here, she won the Film Critics Circle of Australia Award for Best Actress. She was also nominated for Best Actress in a Leading Role at the AACTA Awards.
Her next role was as Jane in the 2014 film Predestination, which won her awards in Australia. That same year, she made her Hollywood debut in the movie Jessabelle. Following this, she co-starred in the film The Dressmaker with Kate Winslet. Subsequent films are Holding the Man and Oddball. In 2015, she portrayed Andrea "Andy" Cunningham in the film Steve Jobs. More recently, she had performances in the films The Glass Castle, Winchester, and Brothers' Nest. As of 2018, she stars as Siobhan "Shiv" Roy on the new HBO series Succession.
Apart from her diet plan, the actress follows an active lifestyle to maintain her healthy weight. Of course, a regular workout is part of her routine — at least she tries to. As a performer on the screen, there also certain roles that require her to make a physical transformation. Such is the case of her role in the film Predestination where she also played a man. Because of the complexity of her role, it took months for her to get ready. Surely, that also involved physical training on her part.
"To play a man I did training for two months. Physical training where I bulked up to look slightly more masculine looking which helped me get into the framework of being a man," said the actress. "There was a lot of upper body muscle-building stuff."