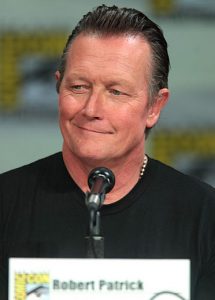 Hollywood actor Robert Patrick began his entertainment career back in the 1980s. He first appeared in the 1986 film Eye of the Eagle. Later in 1990, he played the part of O'Reilly in the action film Die Hard 2. His first notable role in the movies was as the terminator T-1000 in Terminator 2: Judgment Day. He went on to act in more films, including Fire in the Sky, Double Dragon, The Cool Surface, Zero Tolerance, Decoy, Striptease, and many others.
From 1996 to 1997, he was the voice of Roger T. "Race" Bannon in The Real Adventures of Jonny Quest. At the beginning of the 2000s, Patrick gained more recognition for his role as John Doggett in the popular series The X-Files. At the same time, he guest-starred as David Scatino in the acclaimed series The Sopranos. He later portrayed Vernon Presley in the miniseries Elvis. He then starred as Colonel Tom Ryan in the CBS series The Unit from 2006 to 2009.
During this period, Patrick also starred in the films Texas Rangers, Charlie's Angels: Full Throttle, Ladder 49, Walk the Line, Firewall, Flags of Our Fathers, Bridge to Terabithia, and Balls of Fury. Then in the 2010s, he starred as Jackson Herveaux in True Blood, Joseph Prosser in Last Resort, and Jacob Fuller in From Dusk till Dawn: The Series. He went on to star as Cabe Gallo in the TV action-drama series Scorpion. This year, he plays recurring character Herman Baggerly in Perry Mason.
Robert Patrick is already in his 60s but he endeavors to continue his workouts despite injuries and his crazy schedule. "I'm developing more injuries as time goes by," said the actor. "Every time I was jogging it flared up." To remedy this, he works out with his orthopedist to guide him. He's also traded jogging for fast treadmill walks. Aside from his treadmill exercises, he also tries to stay fit by riding a stationary bike, using a rowing machine, martial arts, and free weights.