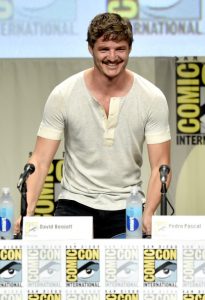 Hollywood actor Pedro Pascal had his career beginnings in 1999, playing one-episode roles in such shows as Good vs. Evil, Undressed, and Buffy the Vampire Slayer. In the 2000s, he made guest appearances in Touched by an Angel, NYPD Blue, Law & Order: Criminal Intent, and Without a Trace. He also starred in the TV film Earth vs. the Spider. In 2005, he made his big screen debut in the film Hermanas. His next role in the movies was in 2008's I Am That Girl.
From 2009 to 2011, he played Nathan Landry in The Good Wife. He then made notable guest roles in Lights Out and Brothers & Sisters. After this, he played Jay Castillo in Red Widow and Juan Badillo in Graceland. In 2014, he played Marcus Pike in The Mentalist. He gained wider recognition when he played Oberyn Martell in Game of Thrones. More recently, he played Javier Peña in the Netflix series Narcos. He's also recently starred in the films The Great Wall and Kingsman: The Golden Circle. He will star in the upcoming movies The Equalizer 2 and Wonder Woman 1984.
The 43-year-old actor mostly sticks to a healthy lifestyle. He eats clean and works out on a regular basis. Seeing his physique, it's also apparent that he follows a great fitness regimen. Of course, proper nutrition also plays a vital role in his physique and overall well-being. He eats healthily but he also loves food and doesn't deprive himself of great meals.
Talking about his eating habits in an interview, he said: "I'd start with very strong, very tasty espresso, runny eggs and buttery toast, someone to share blueberry pancakes with, and then more coffee. A burger and a shake (or a beer – or both) for lunch, and at some point, gin and oysters. And someone with me to remind me to eat some greens."