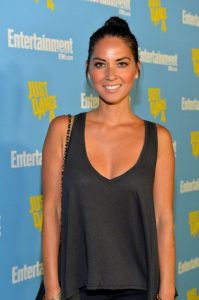 With her latest role as warrior Psylocke in X-Men: Apocalypse, Olivia Munn is more of a bomb than she already is. Though she started her career in journalism, she still couldn't avoid the world of acting, which eventually sucked her in and for which, she eventually loved. Her first notable role as a television actress was on Beyond the Break. Next was on the short-lived comedy series Perfect Couples. She eventually became known on a more mainstream level when she starred on the HBO series The Newsroom. She also appeared as a recurring character on New Girl. As a movie star, she has had remarkable roles in I Don't Know How She Does It, Magic Mike, Deliver Us from Evil, and as mentioned, X-Men: Apocalypse.
The curvaceous actress has the strongest sex appeal of all. Her mixed heritage just made her look perfect in all respects of physical appearance. But of course, Olivia works hard to achieve the figure that she has right now. Apparently, she's not like other women in Hollywood with skinny bodies. She's rather curvy and she's proud of it. As a matter of fact, this contributes to her good looks. Aside from eating healthy, the actress also engages in workouts to maintain her weight, build stamina, and basically achieve overall fitness.
Because she wants to do her workouts more appropriately. She's hired a trainer to help her. It's been said that the actress mainly relies on Pilates to keep her going. Pilates is actually an incredible routine that helps in building up your core strength. Aside from providing her with core energy, Pilates also helps her body attain a better posture. Another form of exercise she engages herself in is dancing. Olivia dances twice to three times in a week for a period of 45 minutes. Of course, she also conducts cardio exercises such as running, hiking, and cycling.