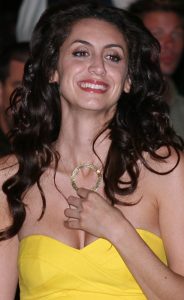 Hollywood star Mozhan Marnò got her professional beginnings in the mid-2000s. She made her debut on television with the show The Unit. She next had guest roles on the TV shows Standoff, Shark, and K-Ville. In 2007, she made her first film appearance in Charlie Wilson's War where she had a small role. Her first credited role on the big screen was in the 2008 movie Traitor. She next guest-starred on the shows Bones, Medium, and The Mentalist. In 2009, she played her first lead role in the movie The Stoning of Soraya M., where she starred as the titular character.
In the 2010s, she continued her work on both film and television. She guest-starred on The Glades, The Paul Reiser Show, Hung, In Plain Sight, and Ringer. From 2014 to 2015, she became widely known for her role as Ayla Sayyad on Netflix's House of Cards. At the same time, she acted in the feature film A Girl Walks Home Alone at Night and guest-starred in Madam Secretary. It was also in 2014 that she began starring as Samar Navabi on the NBC series The Blacklist. This year, she starred in the movie iCreep.
The 38-year-old actress stays in shape by following a healthy lifestyle. For starters, she eats clean and well-rounded foods. Most of the time, she avoids having processed foods. While she admits that it wasn't always the case, she now knows better than to allow her body and overall health to suffer as a result of unhealthy eating. She starts her day with something nutritious like eggs or whole grain cereal or oatmeal. For lunch, she likes having fish or chicken with salad on the side. For dinner, she likes having something light like a sandwich and some soup. Even her snacking habits are also healthy. She usually just eats fruits and nuts.