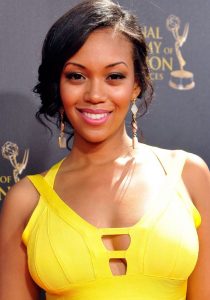 Actress Mishael Morgan first appeared with a small role in an episode of MVP back in 2008. That same year, she had her first recurring part, playing Robyn Crawford in the Canadian teen drama The Best Years. The following year, she starred as Tracy Dupont-Roymont in the Canadian show Family Biz. In the 2010s, she first appeared in the made-for-television movie Double Wedding. She next had one-time roles in Covert Affairs and She's the Mayor.
She also started getting more active in the movies. Her first big screen role was in the film Casino Jack. In 2011, she played Maya in the feature film You Got Served: Beat the World. Afterward, she had a recurring part as Chandra O'Neill in the comedy-drama series Republic of Doyle. That same time, she had a minor role in the film Total Recall. In 2013, she had one-time appearances in Beauty and the Beast and Supernatural.
Morgan gained wider recognition on TV as she starred as Hilary Curtis in the soap opera The Young and the Restless. She was part of the show's main cast from 2013 to 2019. For her performance here, she got nominated for Outstanding Supporting Actress at the Daytime Emmys. Simultaneously, she played Maya in 5 episodes of Backpackers. She then starred in the film Swearnet: The Movie.
The 33-year-old actress stays in shape by following a clean diet plan. As a general rule, she avoids processed foods. She indulges in her cravings every now and then, though in moderation. Typically, she has nutritious meals consisting of lean meat, whole grains, fruits, and lots of vegetables. She usually avoids red meat and dairy products. She doesn't completely eliminate these from her diet, but she limits her consumption of such food items. The Mishael Morgan diet plan is composed of proteins from fish, chicken, broccoli, and soya.