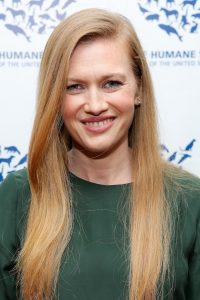 Actress Mireille Enos debuted in the TV movie Without Consent in 1994, followed by another TV movie Face of Evil. In 2001, she made her movie debut with a small role in Someone Like You. During this period, she had guest appearances on the television shows The Education of Max Bickford, Strong Medicine, Rescue Me, Without a Trace, Shark, and Crossing Jordan. Her first starring role on television was as JoDean Marquart / Kathy Marquart on HBO's Big Love. She played the said role from 2007 to 2010.
Following this, she landed the lead role of Sarah Linden on the AMC series The Killing. She received Primetime Emmy and Golden Globe nominations for Best Actress for her role. While on the show, she starred in the movies Gangster Squad, World War Z, and Devil's Knot. She later starred in the feature films Sabotage, The Captive, If I Stay, Katie Says Goodbye, and Never Here. This year, she starred in the movies Don't Worry, He Won't Get Far on Foot, The Lie, and Behold My Heart. From 2016 to 2017, she also played the lead on the ABC series The Catch.
As an actress, Enos prepares for certain roles on a physical level, which involves intense training. For her role on The Catch, she talked about how she prepared for the part. For starters, she performs taekwondo as her exercise. "In my own life I study tae kwon do, that's my preferred way of working out. You know, when you're doing these kinds of hours, you do your best," she said. She also shared about a workout app that she discovered.
She said: "Actually there's this wonderful girl, Ashlynn, and we were bemoaning the other day that it's so hard to work out with these hours, so she pulled up this app, seven-minute workout. And so now, every day she and I find seven minutes in my mini skirts, in my good makeup, in whatever I am in, to hit the deck and pound out seven minutes of planks and pushups, and squats and whatever we are doing, and it's actually becoming like a phenomenon."