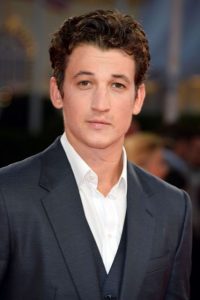 American actor Miles Teller started his acting career with roles in short films. His first TV appearance was on The Unusuals. He later made his film debut in Rabbit Hole. He became more active in the 2010s first with roles in Footloose and Project X. His starring performance in the independent film The Spectacular Now gained him notice. His lead role in Whiplash earned him critical praise. He also has supporting role in the Divergent films, playing the character Peter Hayes. He recently starred as Reed Richards in Fantastic Four as well as in War Dogs.
29-year-old actor is now a mainstream face and name, thanks to mostly strong performances on the big screen. The actor also recently played boxer Vinny Pazienza biographical boxing film Bleed for This. This was his first ever role where the actor knew he needed to work harder to change his physique. After all, he needed to accomplish the body of a boxer. This is crucial in order for him to play his character more effectively.
To prepare for this, Miles admitted he had to repress his cravings for food. In an interview with the US Weekly, he said: "You can't eat anything that you want. You have to be very — I just kind of locked myself away." He added he didn't even eat bread for seven months. He said it was important for him to stay committed to getting in shape because he was playing a professional boxer. He also stated that not being in a good shape would be embarrassing for him. The actor maintained that not making more efforts physically would embarrass him. He acknowledges the fact that being a good actor means he has to make sacrifices and face physical challenges. From 188 pounds with 18% body fat, he became 168 pounds with only 6% body fat.