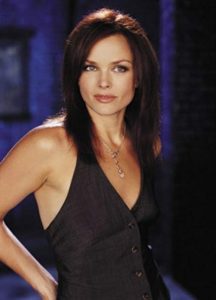 Dina Meyer first appeared in the TV movie Strapped in 1993. That same year, she played recurring character Lucinda Nicholson in Beverly Hills, 90210. She next played Kate Miller in the sitcom Friends. Meanwhile, on the big screen, she debuted in the 1995 film Johnny Mnemonic. Her next film roles were in Dragonheart, Starship Troopers, and Bats. In the 2000s, she joined the main cast of the TV show Secret Agent Man. She later landed the part of Barbara Gordon/Oracle/Batgirl in the short-lived series Birds of Prey.
Afterward, she played Lauren Logan in the comedy-drama series Miss Match, as well as starred Amber Hargrove in Point Pleasant. Also in the 2000s, she had performances in the films Stranger Than Fiction, Star Trek: Nemesis, and The Movie Hero. Meyer also became known for her role as Detective Allison Kerry in the Saw films.
Continuing her career in the 2010s, she guest-starred in NCIS, Scoundrels, and 90210. In 2014, she starred as Helen Bennett in Sequestered. Following this, she starred in several TV movies, including Lethal Seduction. More recently in 2018, she had guest roles in The Magicians and The Affair. She also starred in the films Piranha 3D, Dead in Tombstone, and The Evil Within.
Already in her 50s, Dina Meyer stays in shape thanks to a healthy diet plan. Apart from sticking to proper nutrition, she also maintains her figure by working out. That and having an active lifestyle in general. The Dina Meyer workout routine is one that involves a combination of exercises. She doesn't stick to a rigid routine. Instead, she mixes things up to make it more fun. In her social media, she can be seen posting videos of her performing cardio exercises. She also enjoys cardio classes with dance choreography, which she does for an hour. When she's not busy, she hits the gym on a regular basis.