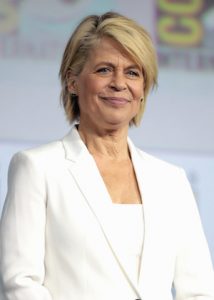 Linda Hamilton's Hollywood career spans decades. Early in her career in the '80s, she had roles in the films Tag: The Assassination Game, Children of the Corn, and The Stone Boy. She also starred as Lisa Rogers in the television series Secrets of Midland Heights and as Lauren Hollister in King's Crossing. Her claim to fame as her role as Sarah Connor in 1984's The Terminator. After this, she starred in the films Black Moon Rising, King Kong Lives, and Mr. Destiny.
She also became known for her role as Catherine Chandler in the TV series Beauty and the Beast. In 1991, she reprised her role as Sarah Connor in Terminator 2: Judgment Day. She went on to have performances in the films Silent Fall, Separate Lives, Dante's Peak, Shadow Conspiracy, and The Secret Life of Girls. In the 2000s, she starred in the TV movies Sex & Mrs. X, A Girl Thing, and Silent Night, as well as in the films Missing in America, The Kid & I, Broken, and Hard Times.
Hamilton continued acting in the 2010s. During this period, she starred in the movies Bermuda Tentacles and Curvature. She also had recurring roles in the TV shows Weeds, Chuck, Lost Girl, and Defiance. In 2019, she reprised her role as Sarah Connor in Terminator: Dark Fate. Her latest movie role was in 2020's Easy Does It. To add, she will star in the upcoming series Resident Alien.
Linda Hamilton transformed her body to prepare for her reprisal of her iconic role in the latest Terminator: Dark Fate. To do this, she worked out for a year and cut carbs from her diet for that period of time too.
As part of her diet plan, she'd usually have egg whites, vegetables, berries, and low-fat yogurt in the morning. Lunch and dinner typically involved lean protein, grilled veggies and brown rice or sweet potatoes. She also incorporated lots of healthy fats into her diet such as avocado, olive oil, and nuts.