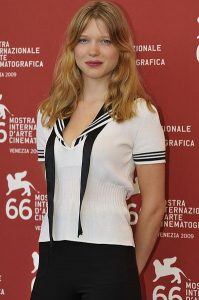 International actress Léa Seydoux started her acting journey in her native France. She debuted in the 2006 film Girlfriends, followed by a role in the movie The Last Mistress. The rest of the 2000s saw her perform in the movies On War, The Beautiful Person, and Lourdes. Her first role in a Hollywood film was as Charlotte LaPadite in Quentin Tarantino's Inglourious Basterds, released in 2009. That same year, she starred in the movie Going South.
In 2010, she portrayed Isabella of Angoulême in the British-American film Robin Hood. Her next role was as Gabrielle in Woody Allen's Midnight in Paris, as well as Sabine Moreau in Mission: Impossible – Ghost Protocol. She went on to headline the French films My Wife's Romance and Farewell, My Queen. In 2012, she also starred in the Swiss feature Sister. She was then acclaimed for her performance in the feature film Blue Is the Warmest Colour.
In 2014, she played Belle in the movie Beauty and the Beast and had a role in The Grand Budapest Hotel. She went on to portray Loulou de la Falaise in Saint Laurent. In 2015, she had a notable role in the movie The Lobster and played Dr. Madeleine Swann in the James Bond film Spectre. This year, she played the titular character in the film Zoe opposite Ewan McGregor. Other films include It's Only the End of the World and Diary of a Chambermaid.
Apart from her staying active, the French actress maintains a healthy body by being a conscientious eater. While she doesn't believe in diets, she tries to focus on having nutritious meals. Nonetheless, physical activity is part of her lifestyle. It's how she makes up for her love of food. "As I'm fond of good food, I play sports all year round. I do multiple classes with my coach and run about seven kilometers a day," the actress said. "I don't like diets; I just love eating. The best way to be healthy is to stay fit."