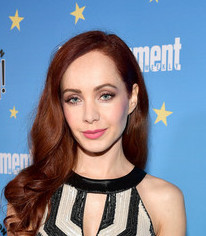 Ksenia Solo first appeared in an episode of I Was a Sixth Grade Alien in 2000. She later had one-time roles in the TV shows Earth: Final Conflict, Adventure Inc., and Missing. The following year, she had her first film role in My Louisiana Sky. She next had roles in such movies as What Girls Learn, Sins of the Father, The Republic of Love, and Defending Our Kids: The Julie Posey Story.
Between 2004 and 2008, she starred as Zoey Jones in the teen drama series renegadepress.com, which gained her mainstream recognition. At the same time, she also starred in the feature film Love Thy Neighbor. Following this, she guest-starred in Crime Stories and The Cleaner. She then starred as Natasha Siviac in the short-lived series Life Unexpected. The actress became further known for her role as Mackenzie "Kenzi" Malikov in Lost Girl, which she played from 2010 to 2015.
For her work here, she won a Gemini Award for Best Performance by an Actress in a Featured Supporting Role in a Dramatic Series. She next starred as Peggy Shippen in the AMC series Turn: Washington's Spies, as well as played Shay Davydov in Orphan Black. More recently, Solo starred as Susie Miller in the new series Project Blue Book. Also in the 2010s, the actress had performances in such films as Black Swan, The Factory, Pet, In Search of Fellini, and Tulipani, Love, Honour and a Bicycle.
In an interview with People, Ksenia Solo shares how she loves to eat. "I love food — it brings me so much pleasure," said the actress. Still, she also knows she needs to be mindful of her diet to keep her body fit and healthy. She said: "But I'm always trying to find a balance between joyful and healthy eating."
In the morning, she usually starts her day with green juice consisting of fruits and veggies, and a bowl of porridge. Lunch is typically a turkey wrap while dinner is organic grilled chicken breast, steamed veggies and potato, and a glass of light red wine to unwind. She also snacks on fruits like apples and pineapples to energize her body.