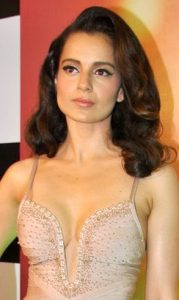 Considered as one of the highest-paid stars in India, Kangana Ranaut entered Bollywood in the mid 2000s. Her first movie was in Gangster. This was a great start for her as she won a Filmfare in the Female Debut category. She soon proved her caliber as an actress by starring in Woh Lamhe and Life in a… Metro. In 2008, she starred in the movie Fashion. She was acclaimed for this role, winning important awards. Not only is she known for her acclaimed performances, she's also a staple in box office hits. This includes Raaz: The Mystery Continues and Once Upon a Time in Mumbaai. She recently won Best Actress awards for her role in Queen.
The acclaimed Bollywood star maintains her slender and fit body through means of healthy living. Being an actress, it somehow becomes her responsibility to take of herself to look great and be healthy at the same time. So, she eats right and exercises. She may be a very busy woman, but the actress makes time for her fitness regimen. She also makes sure that she does not live a sedentary life by sitting most of the time. Any activity that requires her to move is good for her.
Kangana is already an ectomorph. This means she doesn't gain weight so easily because her body has a lean and a delicate build. As for her workout routine, she has her physical trainer to guide her. Essentially, she does strength training, circuit training and weight training to achieve a toned body. She goes to the gym five times a week and work outs for 1-2 hours. She focuses on strength training on Mondays, stretching on Tuesdays, focuses on her abs and lower backs on Thursdays, yoga on Fridays and PHA or Peripheral Heart Action on Saturdays. This is also known as Turbulence training. She rests on Wednesdays and Sundays.