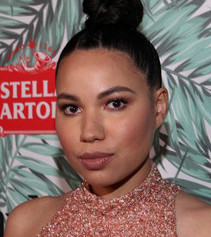 In the early '90s, actress Jurnee Smollett-Bell first became known for her role as Denise Frazer, a recurring character in the sitcom Full House. She played the same role in Hangin' with Mr. Cooper. After this, she joined the main cast of the show On Our Own as Jordee Jerrico. She then appeared in several episodes of the sitcom Cosby playing the role of Jurnee. In 1996, she had her first cinematic role in the film Jack. This was followed by a performance in the movie Eve's Bayou.
In the 2000s, the actress landed roles in such films as Beautiful Joe, Roll Bounce, Gridiron Gang, and The Great Debaters. She also guest-starred in Strong Medicine, ER, House, and Grey's Anatomy, as well as starred in the short-lived series Wanda at Large. From 2009 to 2011, she became known for her role as Jess Merriweather in Friday Night Lights. She gained notice for playing Lisa in The Defenders and Nicole in True Blood.
She also played recurring role Heather Hall in Parenthood. She went on to star as Rosalee in the period drama series Underground. At the same time, she had roles in the films Temptation: Confessions of a Marriage Counselor and Hands of Stone. This year, the actress rose to greater fame for starring as Dinah Lance / Black Canary in the film Birds of Prey. She also started starring as Letitia "Leti" Dandridge in the Lovecraft Country.
Jurnee Smollett-Bell is into self-care, which she does by relaxing, exercising, and sticking to a healthy diet plan. Her diet regimen depends on the role she's preparing for but in general, the actress keeps it simple with lean meat, whole grains, fruits, and veggies. She also chooses healthy snacks so she doesn't get hungry often and stop herself from overeating. Eating in moderation has always been crucial for her health-wise.