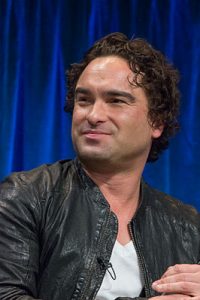 It was in 1987 that Hollywood star Johnny Galecki started his career with the movie Time Out for Dad. He next starred in the movie A Night in the Life of Jimmy Reardon. Meanwhile, he made his television debut as Danny Nash in the series American Dreamer. Following this, he played David MacGregor in the show Billy. In the '90s, he became further known for his role as David Healy in the sitcom Roseanne. His performance in the show earned him a Young Artist Award.
He later starred in the films Suicide Kings, I Know What You Did Last Summer and The Opposite of Sex. He continued his film career with roles in Playing Mona Lisa, Bounce, and Vanilla Sky. He rose to greater success when he started playing Dr. Leonard Hofstadter in the award-winning sitcom The Big Bang Theory. For his work here, he was nominated for a Primetime Emmy Award for Outstanding Lead Actor in a Comedy Series in 2011. Simultaneously, he had roles in the movies Hancock, Table for Three, In Time, CGBG, The Cleanse, and Rings.
Aside from working out, the comedic actor takes care of his body and general health by eating right. This means following a vegetarian lifestyle for him. With this, Johnny is one of those Hollywood actors who stick to a plant-based diet. In an interview, he also revealed that he's into juicing. Talking about healthy habits, he said: "I've totally bought into the whole juice thing, and I make a real effort to stay consistent, despite frequent travel."
Though he admits to eating fish every now and then, what matters for the actor is that he was able to make crucial lifestyle changes for both animal and environment welfare. This also sorta explains why he turned the 300-acre of land he bought in vineyards instead of livestock.