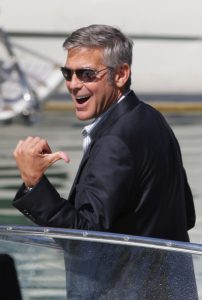 George Clooney is an American actor and filmmaker whose Hollywood career began in the 1970s. Widespread fame came courtesy of his role on the medical drama series ER in the 1990s. This led him to land lead roles on the big screen, first starring in Batman & Robin and Out of Sight. He soon attracted international prominence in the 2000s as he starred in the box office hit Ocean's Eleven. Venturing into directing, he had his debut in Confessions of a Dangerous Mind. He got his first acting acclaim from his role in Syriana. He received Best Actor nominations at the Oscars for performances in Michael Clayton, Up in the Air, and The Descendants.
The 55-year-old actor may be fast approaching old age, but it surely isn't the case when you look at him. His youthful charm has since amazed his fans. He doesn't surely look like a granddad, in fact he still isn't a dad. He only got married to his second wife in 2014. So, how does the Academy Award-nominated actor keep himself fit and healthy? Surely, it has something to do with his healthy lifestyle instead of cosmetic procedures since his charm looks to be natural. Starring in several feature films, working out to keep in shape has become one of George's active lifestyle.
For an actor like him who's not getting any younger, keeping fit somehow becomes a necessity. But he doesn't need this reason to do so as his great workout habits is something that's part of his routine, not only for his career, but for himself personally. For his performance in The American, for instance, the actor played an assassin. This involved a more challenging training for him to be able to achieve the physique of his character. For this, he regularly did push-ups and pull-ups, sit-ups, and stretches. These movements helped him maintain his muscle mass and increase the strength of his upper body.