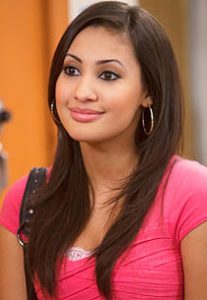 Actress Francia Raisa got into professional acting in 2005. This was when she made her first television appearance on Over There. Her next acting gig was in Bring It On: All or Nothing. She then starred in two TV movies. Afterwards, she joined the main cast of the drama series The Secret Life of the American Teenager as Adrian Lee. Simultaneously, she had roles in the films Fired Up!, Bulletface, and Chastity Bites. AfterThe Secret Life of the American Teenager ended, she starred in a couple of TV films. She also guest starred on a few shows. On the big screen, her latest work was in 2016's Beyond Paradise.
The 29-year-old actress maintains her slender and fit body by working out regularly. Aside from her diligent fitness regimen, she also makes sure she eats right. She understands that they key to a healthy figure does not solely rely on exercising. Proper nutrition is also crucial. Still, Francia doesn't limit herself too much when it comes to her food options. She knows she needs to eat healthy most of the time. But she also knows that being happy is also important. So, she puts a balance in the two by allowing herself to indulge in her cravings every now and then.
She believes that she doesn't need to opt for the healthiest meal all the time and that it's completely okay to splurge, as long as she exercises. That's also how she balances her fitness and health. In an interview, she shared about hosting a party where she served all her fave foods, which are "burgers, pepperoni pizza, Doritos, and chicken wings with hot sauce." By allowing herself to pick foods she loves from time to time, she doesn't feel deprived. Feeling of deprivation is not good when it comes to diet because it leads to binge eating instead.