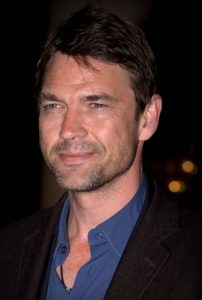 Hollywood actor Dougray Scott first appeared in the 1994 film Princess Caraboo. He next appeared in the film Soldier Soldier released the following year. After this, he had his first television appearance in an episode of Highlander: The Series. The rest of the '90s saw Scott starring in such films as The Crow Road, Regeneration, The Place of the Dead, Twin Town, Ever After, Deep Impact, Gregory's Two Girls, and This Year's Love. In 2000, he starred as Sean Ambrose in Mission: Impossible 2.
He went on to star in the films The Miracle Maker, Arabian Nights, Enigma, Ripley's Game, The Truth About Love, Things To Do Before You're 30, and Dark Water. Scott also gained recognition for his performances in the features Perfect Creature, Heist, and Hitman. His portrayals of Thomas Fairfax in To Kill a King and Moses in The Ten Commandments also gained him attention. From 2006 to 2007, he became known among TV audiences as Ian Hainsworth in Desperate Housewives.
The following year, he played the lead in the film Dr. Jekyll and Mr. Hyde. Later in 2011, he portrayed Arthur Miller in the drama My Week with Marilyn. Between 2013 and 2014, he played Dr. Norman Godfrey in Hemlock Grove. After this, he starred as Stuart St. John in Taken 3. He has since starred in the films Tiger House, The Vatican Tapes, London Town, and Division 19. Recently, he starred as Vic Hill in the web series Snatch, as well as played Jacob Kane in The CW's Batwoman.
Dougray Scott stays fit and ripped by working out consistently. However, he's since taken it easy now that he's in his 50s. He admitted to being more rigorous in his training when he was in his 30s, specifically when he trained for his role in Mission Impossible. He still trains up to now but not as intense as before.
"I have a trainer who lives in my pocket – he's my mate and he owns the gym in LA that I train at," said the actor. "He trains me three times a week and I also do Pilates because my back gets stiff, and Pilates is good for that."