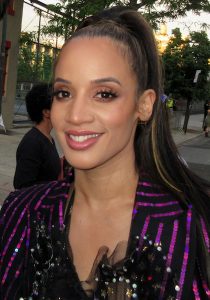 Dascha Polanco got her breakthrough after securing the part of Dayanara "Daya" Diaz in Netflix's acclaimed series Orange Is the New Black. Prior to her success, she first appeared in small roles in such TV shows as Unforgettable and NYC 22. With her breakout role in Orange Is the New Black, Polanco gained wider recognition that opened more doors for her in Hollywood.
While starring on the show, she had performances in the films Gimme Shelter (film debut), The Cobbler, Joy, and The Perfect Match. She also appeared as Det. Lori Wieder in 3 episodes of The Assassination of Gianni Versace: American Crime Story. Just this year, she played Beatrice in 4 episodes of the Netflix show Russian Doll, as well as had one-time roles in When They See Us and Evil. Also, the actress appeared with a small role in Martin Scorsese's latest film The Irishman. She will star in the upcoming 2020 movie In the Heights.
Apart from practicing a healthy diet plan, the actress maintains her fit body by sticking to her workout routine. In an interview with The Cut, she also shared how she wants to mix things up. "I get bored with workouts that are the same every day. I've been going to Blink. But I play sports and also live in a fifth-floor walk-up, so that's exercise," said the actress.
Polanco, who also works with a trainer, performs "15 minutes of intense cardio" such as push-ups, the Stairmaster, or the elliptical. She also performs squatting with a medicine ball while she avoids the treadmill because it gives her the motion sickness. "Depending on if it's a leg day, we do a lot of burpees, calisthenics, and the leg machine. There's a lot of high-intensity interval training. Sometimes we work outside and do the heavy ropes for arms. We focus each day on something different," she shared.