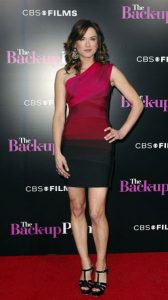 Hollywood star Danneel Ackles debuted as Shannon McBain in the soap opera One Life to Live in 1999. She played the role until 2004. Afterward, she appeared as Kate in 4 episodes of the sitcom What I Like About You. She also appeared in 3 episodes of the sitcom Joey. She later had notable guest appearances in Charmed and JAG. From 2005 to 2010, she became widely known for her recurring role as Rachel Gatina in One Tree Hill.
During this period, she also started her film career, debuting in 2007's Ten Inch Hero. She next played Vanessa Fanning in the comedy movie Harold & Kumar Escape from Guantanamo Bay. Her next roles were in the films Extreme Movie, Still Waiting…, and Fired Up!. In the 2010s, she's had performances in the features The Back-up Plan, The Roommate, and Mardi Gras: Spring Break.
She also reprised her role as Vanessa in 2011's A Very Harold & Kumar 3D Christmas. That same year, she also starred as Sara Maxwell in the short-lived sitcom Friends with Benefits. She went on to star in the TV movie Naughty or Nice. As of 2018, she plays a recurring character in Supernatural where her husband Jensen Ackles stars. In addition, she starred in the TV movie The Christmas Contract.
Apart from following a healthy diet plan, the actress maintains her great body by sticking to an active lifestyle. Being an actress and a mother of three, keeping busy comes naturally for her. She's always on the go, which already equates to exercising. Of course, she knows this isn't enough.
Besides, working out for her isn't just to keep her body in top shape. It's also for reducing stress and just feel great from the inside out. She mixes things up — cardio, yoga, Pilates. She runs a lot, takes long walks, and does stretches. She also enjoys sports and other outdoor activities.