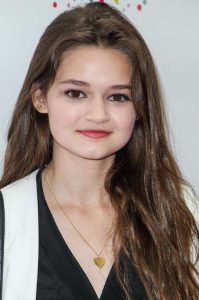 Hollywood star Ciara Bravo first debuted with a voice role in Can You Teach My Alligator Manners? back in 2008. The following year, she had her first movie appearance as an extra in Angels & Demons. She also landed her first starring role on the small screen – as Katie Knight in the Nickelodeon series Big Time Rush. She starred on the show from 2009 to 2013, earning her stardom. She simultaneously had roles in the movies Open Season 3 and Cinnamon.
Bravo is also a prolific voice actress, having worked on the TV specials Happiness Is a Warm Blanket, Charlie Brown and Ice Age: A Mammoth Christmas. In 2012, she became a regular panelist for the game show Figure It Out. That same year, she reprised her role as Katie Knight in the made-for-television movie Big Time Movie. She went on to make one-time appearances in Supah Ninjas, AwesomenessTV, and The Haunted Hathaways.
During this period, she starred in the TV movies Swindle and Jinxed. From 2014 to 2015, she starred as Emma Chota in the Fox series Red Band Society. Following this, she joined the main cast of the show Second Chance as Gracie Pritchard. However, it was canceled after one season. Currently, she stars as Del in the web series Wayne. She has also made notable roles in the films To the Bone and The Long Dumb Road.
Due to her very slim figure, the actress is often rumored to be suffering from an eating disorder. She has since denied these claims. Instead, she encourages her fans to be supportive of those who truly are struggling with the condition. Instead of focusing on body image, she knows that following a healthy lifestyle is more crucial. " I think it is important to stay healthy, to eat right, to exercise and that is all we need to focus on," said the young star. Generally, she stays fit and healthy by eating lots of protein, whole grains, and salads.