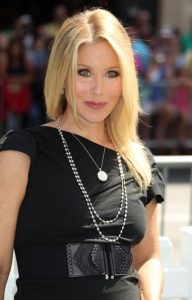 It was in 1972 that actress Christina Applegate started her career when she was just a baby. She continued being a child actress in the 1980s with her first starring role in the TV show Heart of the City. Subsequently, she landed her major breakthrough as Kelly Bundy in the sitcom Married… with Children. The show aired on television for a decade, making her a TV staple. This also paved for her to start a movie career. While on the show, she had also acted in the films Don't Tell Mom the Babysitter's Dead, Vibrations, and Mars Attacks!.
After Married… with Children ended in 1997, she starred in the show Jesse, playing the titular character. She later starred in the movies The Sweetest Thing, Wonderland, View from the Top, and portrayed Veronica Corningstone in Anchorman: The Legend of Ron Burgundy. She returned to television with the lead role in Samantha Who?. In the 2010s, she played Reagan Brinkley in the comedy series Up All Night. More recently, she's starred in the movies Bad Moms and Crash Pad.
We've all known Christina since she was little, having started a career at a very young age. Amazingly, the actress has maintained her health and fitness and she does this by trying to live a balanced and an active lifestyle. She became more devoted to following a healthy life after being diagnosed with breast cancer back in 2008. Aside from making dietary changes, it was also essential for her to exercise. But like any other mothers, she confessed to having a hard time finding the time and the energy to work out.
"It's been a struggle for the last couple of years to get into a rhythm again," she said saying it's tough now that she has a kid. As a working mom, she tries to make it work. She said: "I try to do some kind of cardio: [indoor cycling], elliptical, or treadmill. I go between those three things. And my trainer does weight training and core-strength work with me. After I [gave birth] my back gave me a lot of trouble, so I've been working hard to build core strength to make it strong again."