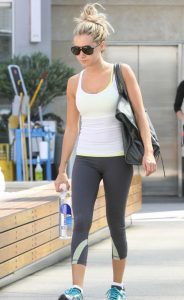 Ashley Tisdale is an American celebrity who got famous for her role as Sharpay Evans in the High School Musical series. The first High School Musical film was in 2006, followed by High School Musical 2 in 2007, as well as the movie Bring It On: In It to Win It, where she also starred in. The last High School Musical was High School Musical 3: Senior Year in 2008. During this time, she was also starring on the Disney series The Suite Life of Zack & Cody. At this point, she was already a huge Disney star. She's also best known for voicing Candace in the animated series Phineas and Ferb. She then joined the main cast of the short-lived series Hellcats, as well as starred on another short-lived show Clipped. In the movies, she starred in Sharpay's Fabulous Adventure and Scary Movie 5. She's also a recording artist. She has released the albums Headstrong in 2007 and Guilty Pleasure in 2009.
It's hard to believe that Ashley is turning 31 this year. It felt like it wasn't long ago when we saw her in High School Musical. But she's turning 31 and she looks amazing as she grows older. Despite her busy career due to her various ventures in the show business, she still doesn't forget to take care of herself. Aside from eating healthy by only consuming pure and clean foods, at least most of the time, she also allots time so she can work out. Since before, the actress-singer already has a slender figure, but she's not complacent because she knows that being slim is not enough.
It is also important to be lean and strong to achieve an overall fitness. Upon realizing that exercising is important, she hired her personal trainer to help her with her workout routine. Everyday, she would spend at least an hour to exercise. Basically, she relies on strength training such as weight lifting and cardio workouts to establish strength and tone her body. For 30 minutes, she runs on elliptical and treadmill and she spends another half hour to lift light-weight dumbbells. In addition, her trainer also instructs her to do bicep curls, push-ups, and shoulder press.