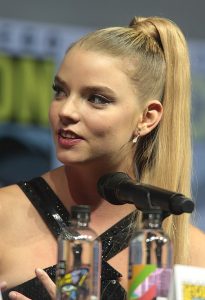 Actress Anya Taylor-Joy is one of today's breakout stars. In 2014, she made her film debut as an extra in the movie Vampire Academy. That same year, she had her first television appearance in an episode of Endeavour. She also starred in the TV movie Viking Quest. The following year, she gained significant attention for her role as Thomasin in the supernatural horror film The Witch.
At the same time, she played the role of Cassandra in 5 episodes of the British series Atlantis. She next had roles in the films Morgan and Barry, as well as starred as Casey Cooke in M. Night Shyamalan's Split. She next appeared as Petronella "Nella" Brandt in 3 episodes of the miniseries The Miniaturist. Later, she starred in the films Marrowbone and Thoroughbreds. This year, Taylor-Joy became further known for her several performances in the films Glass, Love, Antosha, and Playmobil: The Movie.
She also portrayed Irene Curie in the British biographical film Radioactive. Also, she played recurring character Gina Gray in Peaky Blinders, as well as voiced Brea in the animated series The Dark Crystal: Age of Resistance. The actress has some upcoming films in 2020 — as Emma Woodhouse in the upcoming film Emma and Illyana Rasputin / Magik in The New Mutants. In addition, she will star in the upcoming series The Queen's Gambit.
The 24-year-old Anya Taylor-Joy stays in shape by sticking to veganism. Everything she eats is plant-based. "I've been a vegetarian since I was eight, so I don't touch meat or fish. I was vegan for a long time I got into it because it's the most ecologically conscious choice you can make as a consumer," said the actress.
"When I was a vegan it was the healthiest I've ever felt, because I had so much energy. I was eating a tonne because I have a really big appetite and was getting in more greens. As a vegetarian I love a lot of Italian food – but I don't get that many greens in there!"