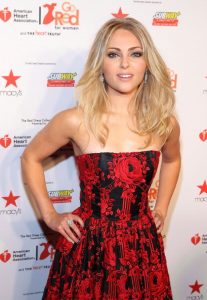 Hollywood star AnnaSophia Robb started her career as a child actress. Audiences first saw her as the lead character on the 2004 TV movie Samantha: An American Girl Holiday. She next starred as Violet Beauregarde in Tim Burton's Charlie and the Chocolate Factory. Her next role was as Leslie Burke in the movie Bridge to Terabithia. That same time she had a supporting role in The Reaping, starring Hilary Swank. She then played the younger version of Rachel Bilson's character in 2008's Jumper. Her career became more prolific in the 2010s. First, she portrayed Bethany Hamilton in the movie Soul Surfer. She was then cast for the role of Carrie Bradshaw on The Carrie Diaries. The show aired on The CW for two seasons. More recently, she starred as Alice Green on the TV series Mercy Street.
The 24-year-old actress maintains a slender and fit figure by practicing a healthy lifestyle. Aside from eating healthy, she also exercises as regularly as possible. She does to maintain her healthy weight and to improve her strength. Being an actress who plays different kinds of characters, she knows she always needs to be energetic to play her roles effectively. For her portrayal of Bethany Hamilton in the movie Soul Surfer, AnnaSophia also worked harder to make sure she was physically ready for her role. Playing a surfer, she knew she needed to train more.
Before she began doing her surfing training, it was reported she spent two weeks swimming, practicing her breathing method, fortifying her core, and working on her balance and pop-ups. All these were necessary for her scenes for the movie and the actress took on the role seriously. She also did some weight lifting to increase her strength in addition to consuming more protein in her diet. Plus, her surfing training included a two-hour session with surfer Bethany Hamilton herself.