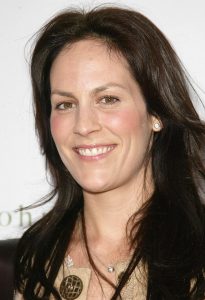 Hollywood star Annabeth Gish started her professional acting career in the 1980s. For her role as Kat Arujo in the 1988 film Mystic Pizza, she was nominated for a Young Artist Award nomination for Best Young Actress in a Motion Picture—Drama. She got the same nomination for her work on the TV film When He's Not a Stranger. During the '90s, she became known for her performances in the movies Silent Cries, Wyatt Earp, and The Last Supper. She next portrayed Julie Nixon Eisenhower in the 1995 film Nixon.
She became further known for her role as Angie Green/Angie Ryder in the film Double Jeopardy. On television, she made her debut as Anne Hampton on Scarlett. She next played Lenore Laderman on Courthouse. In the 2000s, she was known for playing Monica Reyes on The X-Files. She next played Elizabeth Bartlet Westin on The West Wing and Eileen Caffee on Brotherhood. Continuing her career in the 2010s, she played Dr. Anne Sullivan on Pretty Little Liars, Charlotte Millwright on The Bridge, Sheriff Althea Jarry on Sons of Anarchy, and Diane Gould on Halt and Catch Fire. On the big screen, her latest role is in 2018's Charlie Says.
The 47-year-old actress stays in shape by following a clean diet. She doesn't eat processed foods, for starters. It's been more crucial for her at this time to just stick to a nutritional diet plan. When asked if she follows a special diet in an interview, she answered: "I don't eat red meat. Not for any political reasons, just for personal choice. A lot of protein, vegetables, water – that's my staple." She makes sure she always incorporates veggies into her meals. Of course, she also loves snacking on fruits instead of junk foods. With her clean diet plan, it's no wonder the actress looks radiantly youthful.