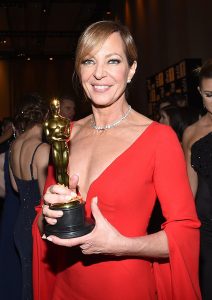 It was in 1989 that actress Allison Janney started her Hollywood career, debuting in the film Who Shot Patakango?. During the '90s, she made guest appearances on some shows. She also landed more roles on the big screen, such as in the films Dead Funny, Heading Home, Walking and Talking, and The Associate. She later made her breakthrough on television — as C. J. Cregg in the NBC series The West Wing. For her performance here, she won Primetime Emmy Awards. While on the show, she had roles in the films 10 Things I Hate About You, American Beauty, Drop Dead Gorgeous, and How to Deal, among others.
After The West Wing, she starred in the movies Juno, Hairspray, A Thousand Words, and The Help, among others. From 2013 to 2015, she played Margaret Scully on Masters of Sex, which got her a Primetime Emmy Award for Outstanding Guest Actress in a Drama Series. She also played Crystal Cohen on Mr. Sunshine. Also in 2013, she started starring Bonnie Plunkett on the CBS sitcom Mom. For her work on the show, she won the Primetime Emmy Award for Outstanding Supporting Actress in a Comedy Series twice. Her portrayal of LaVona Golden in the movie I, Tonya won her an Academy Award for Best Supporting Actress.
Apart from her clean diet plan, the award-winning actress stays healthy by practicing an active lifestyle. Her workouts are quite simple. For starters, she loves walking her dogs, which she considers also a great time for meditation. She also stays fit by performing Pilates weekly, as well as working out with a trainer. Of course, she enjoys all her physical activities not only because they help her feel stronger but also because they make her feel incredible from the inside out. Meditation is also a crucial part of her daily schedule.