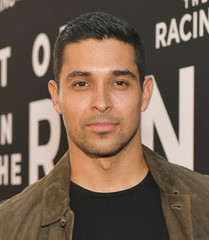 Hollywood star Wilmer Valderrama started his career in 1998, debuting as Antonio in some episodes of Four Corners. That same year, he had his breakout role as Fez in the sitcom That '70s Show. He received Teen Choice awards and nominations for his work here. While part of That '70s Show's main cast, he landed several film roles as well, including Summer Catch, Party Monster, Clifford's Really Big Movie, The Darwin Awards, Fast Food Nation, Unaccompanied Minors, and Zoom.
Following the finale of That '70s Show, Valderrama had performances in the films El Muerto, The Condor, Columbus Day, and Days of Wrath. He also created, hosted, and produced the show Yo Momma. As a voice actor, he is best known as the voice of Manny Garcia in Disney's Handy Manny. In the 2010s, he continued his film career with The Dry Land, From Prada to Nada, Larry Crowne, The Brooklyn Brothers Beat the Best, School Dance, The Girl Is in Trouble and The Adderall Diaries. He also played Eric Kassabian in USA Network's Royal Pains, as well as starred as Detective Efrem Vega in the NBC series Awake.
He next played Ricardo Montes in the Fox sitcom Raising Hope. In 2014, he played the villain in the TV series From Dusk till Dawn: The Series. At the same time, he had notable roles in Minority Report and Grey's Anatomy. In 2016, he joined the regular cast of NCIS playing the role of Nicholas "Nick" Torres. He also played Umberto in some episodes of The Ranch. This year, he was the voice of Gaxton in the animated film Onward.
For his role in From Dusk till Dawn: The Series, Wilmer Valderrama had a jaw-dropping transformation to play the show's bad guy. He hit the gym twice a day and also followed a strict diet plan where he only had five small meals per day. His diet mostly included protein, plenty of greens and nutritious carbs like yams and brown rice. "I had to put chocolate, burgers, pizza and my ranch dressing on hold," joked the actor.