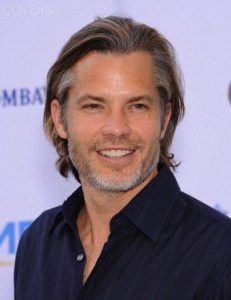 Hollywood actor Timothy Olyphant first had his beginnings in 1996, debuting in the film The First Wives Club. He next had a three-time role on the TV series High Incident. The rest of the '90s saw him appear in the movies A Life Less Ordinary, Scream 2, 1999, and No Vacancy. In the early 2000s, he had performances in the films Gone in 60 Seconds, Head Over Heels, Rock Star, The Safety of Objects, Dreamcatcher, and The Girl Next Door. At the same time, he also became known for starring as Sheriff Seth Bullock on the HBO series Deadwood.
Following this, he gained fame for playing Agent 47 in the 2007 film Hitman, after which he starred in the films Stop-Loss and A Perfect Getaway. He next starred as Wes Krulik on the FX series Damages. He later starred as Raylan Givens on the television series Justified, playing the said role from 2010 to 2015. During the same period, he had also performances in the films The Crazies, Elektra Luxx, I Am Number Four, This Is Where I Leave You, and Mother's Day. More recently, he starred in the movies Snowden and Behold My Heart. He joined the cast of the upcoming film Once Upon a Time in Hollywood. As of 2017, he also stars as Joel Hammond on the Netflix series Santa Clarita Diet.
The 50-year-old actor is a healthy eater. He indulges in his cravings but he generally eats healthily. For one, he loves oatmeal and not the instant kind. "That [instant oatmeal] is no way to live your life, young man," said the actor in an interview. He then talked about his healthy upbringing: "Well, first of all, I didn't grow up with that. Everything was khaki-colored. The only time we got sugary cereal was when my mom went away for the weekend and she bought us Frosted Flakes because she wanted us to behave. Otherwise, we were eating shredded wheat, granola, or Grape Nuts." Nonetheless, he admits being crazy about peanut M&M's.