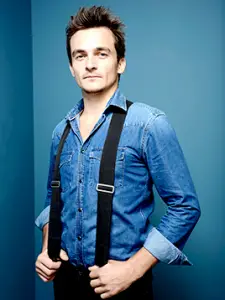 English actor Rupert Friend became naturally started his film career in British movies. During his initial years,
he played notable roles like in the film The Libertine. He next played Mr. Wickham in Pride & Prejudice. After a couple of other roles, he attracted attention for playing Prince Albert in The Young Victoria. In the 2010s, he ventured to American television. With this, he starred as Peter Quinn on the acclaimed series Homeland. For his work here, he was nominated for a Primetime Award. This exposure helped him land the lead role in the action film Hitman: Agent 47.
With his performances in Homeland and Hitman: Agent 47, Rupert has proven himself to be great as an action performer. It's also great that he has such a lean and a toned body that makes him perfect for such roles. He's not your regular all-chiseled looking type, but he's fit and strong. Though he regularly works out to keep being strong and fit, the actor trains harder for his role as a fierce assassin in Hitman: Agent 47. For one, he practiced the Krav Maga fighting style. Additionally, he also trained with a world champion boxer, learned Filipino knife fighting and did basic judo.
With his training and determination, he was able to do almost of the stunts in the film. He also trains regularly despite his busy schedule with Homeland. On the show, he plays a CIA operative who also has extraordinary fighting skills. It's really amazing how he can pull this off looking very natural. How does he do such a feat? Healthy eating and regular workouts as mentioned. He does sports and engage himself to outdoor exercises when he has the time. He performs cardio exercises more regularly and does circuit training to maintain his stamina. His workout technique is actually simple as he likes to keep it as natural as possible.